Instagram sebagai Third Place Virtual Pria selama Pandemi Covid-19
Irawati Diah Astuti

Universitas Indonesia
Keywords:
Covid-19, Instagram, Komunikasi termediasi komputer, Media sosial, Third place
Abstract
Penelitian ini menjelaskan tentang penggunaan Instagram sebagai third place virtual kaum pria selama pandemi Covid-19 melanda. Diketahui, selama pandemi Covid-19, aktivitas masyarakat terkungkung hanya di rumah saja sehingga rumah yang sedianya menjadi first place juga berfungsi sebagai second place, yaitu tempat kerja. Sementara untuk mengunjungi third place yakni tempat untuk bersosialisasi secara santai sulit dilakukan karena adanya anjuran dan perintah untuk diam di rumah demi meniadakan penularan Covid-19. Sebagai alternatif, para pria melirik media sosial, terutama Instagram, sebagai sarana berkomunikasi yang aman tanpa bersentuhan secara fisik karena komunikasi dilakukan dengan komputer sebagai mediasinya. Dengan menggunakan metode kualitatif berupa analisis isi, peneliti menilai unggahan-unggahan di akun Instagram @bapak2id yang menjadi pilihan banyak kaum pria sebagai tempat bersosialisasi secara virtual. Hasil dari penelitian menunjukkan bahwa akun Instagram @bapak2id menjadi pilihan sebagai third place virtual karena konten dan interaksi yang dihadirkan di akun tersebut memenuhi delapan karakteristik yang disyaratkan Oldenburg (1989) agar sebuah tempat bisa disebut sebagai third place. Konten @bapak2id yang penuh humor, hangat, terbuka untuk siapa saja, dan low profile membuat kaum pria membentuk koneksi dengan para founder maupun dengan sesama pengikut akun tersebut.
Downloads
Download data is not yet available.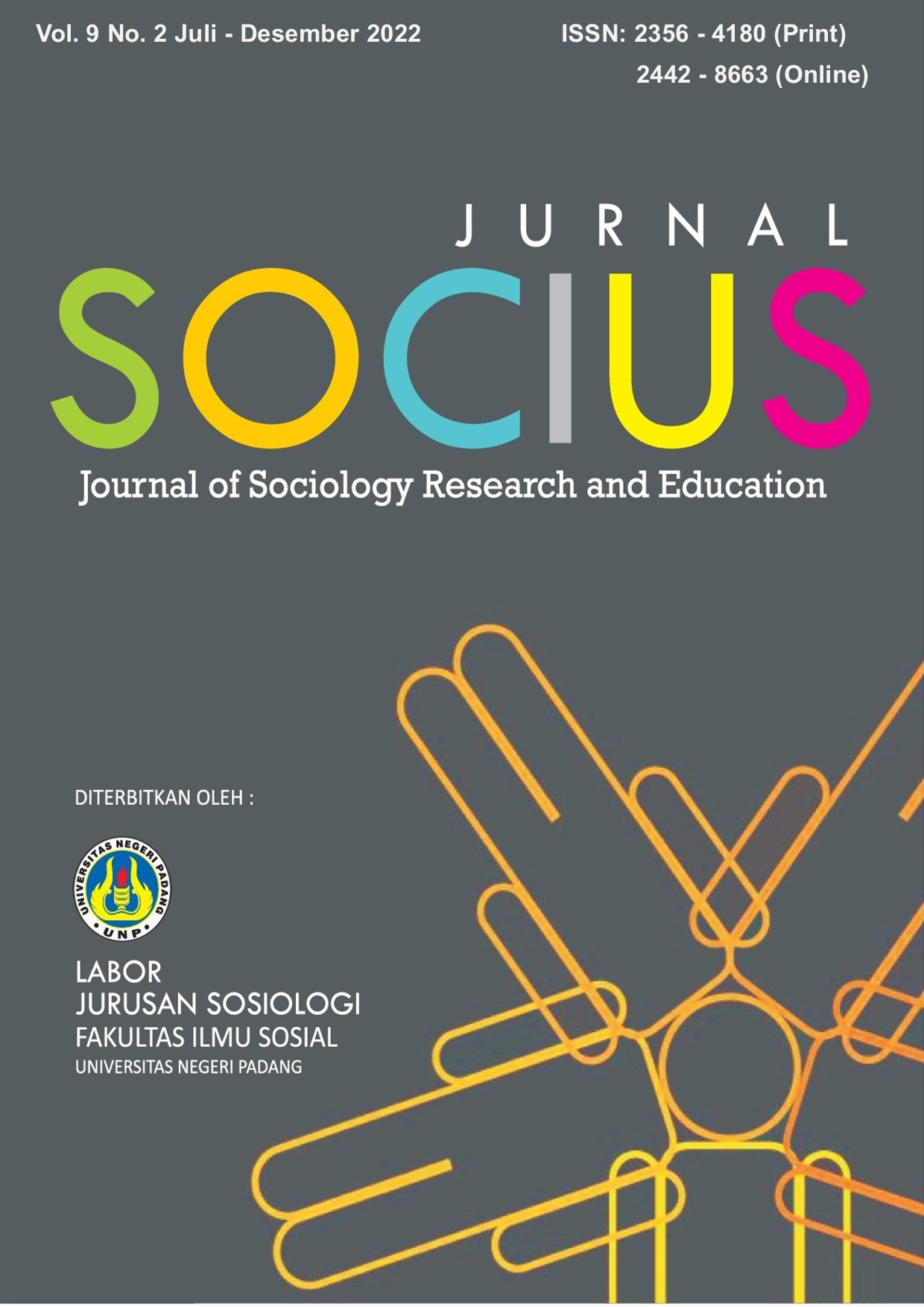 Copyright (c) 2022 Jurnal Socius: Journal of Sociology Research and Education
This work is licensed under a Creative Commons Attribution-ShareAlike 4.0 International License.