Answering Agrarian Issues through Analysis of Employment Opportunities and Labor Shifting
Megasari Noer Fatanti

Universitas Negeri Malang

Syarifatul Maulidiyah

Universitas Negeri Malang

Luhung Achmad Perguna

Universitas Negeri Malang

Zainal Fatah

Universitas Dr. Soetomo
Keywords:
agrarian affairs, agriculture, employment opportunities, labor shifting
Abstract
Agrarian research in Indonesia has developed with its variety of focus areas such as analysis of agrarian structure disparity, land ownership conflicts, and poverty. However, of the several research topics related to agrarian affairs, it is apparent that very few discuss how employment opportunities and types of labor shifting in the agriculture sector exist from a sociological perspective. Agrarian studies in this research have the objective to describe and analyze employment opportunities and types of labor shifting in the agriculture sector in Balearjo Village, Pagelaran Sub-District, Malang Regency. This study uses a qualitative descriptive approach with the data collection technique of participant observation and semi-structured interviews. The unit of analysis is employment opportunities and labor shifting in the agriculture sector, discussed with the Historical Materialism Theory of Karl Marx. Research results indicated that there is a variety of employment opportunities in the agriculture sector, not only limited to land ownership and land tilling. The same is true for patterns of labor shifting; the condition is not as simple as society shifting to non-agriculture sectors. Instead, shifts occur that are temporary in nature and continuous in a cycle depending on the harvest season. The existence of various employment opportunities that implicate labor shifting is certainly due to the existence of a material basis that determines a non-material basis. This is because the position of individuals in the agricultural working class will determine their consciousness and the ways they work.
Downloads
Download data is not yet available.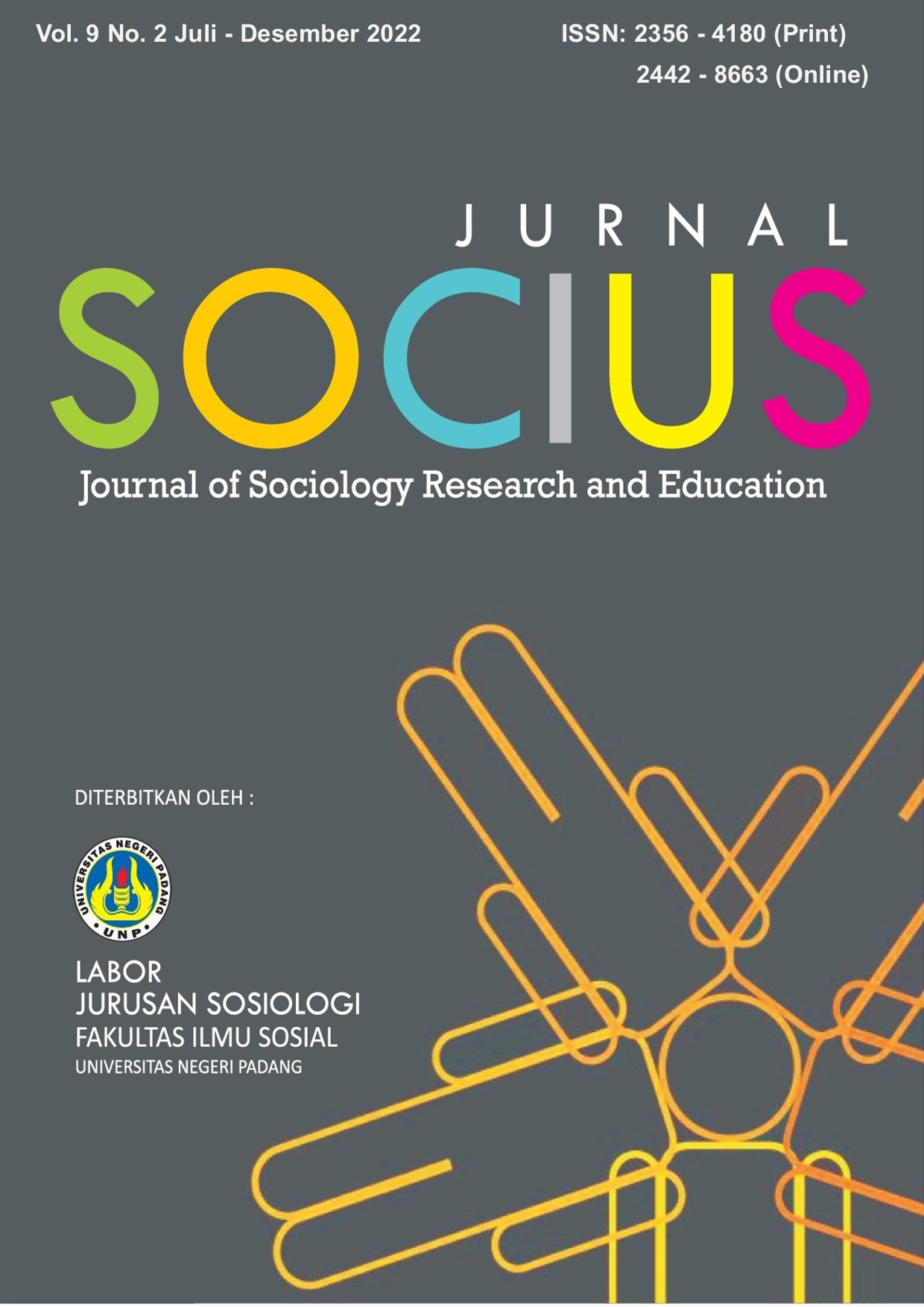 Copyright (c) 2022 Jurnal Socius: Journal of Sociology Research and Education
This work is licensed under a Creative Commons Attribution-ShareAlike 4.0 International License.