Faktor-Faktor yang Mempengaruhi Adopsi E-Commerce Wirausaha Perempuan
Cut Endang Kurniasih

Universitas Riau

Nobel Aqualdo

Universitas Riau

Hilmah Zuryani

Universitas Riau
Keywords:
Adopsi E-commerce, UMKM, Wirausaha perempuan
Abstract
Sektor Usaha Mikro Kecil Menegah (UMKM) terus menunjukkan perkembangan yang sangat baik tidak terkecuali bagi wirausaha perempuan yang ikut menjalankan UMKM dengan mengadopsi e-commerce sebagai strategi inovasi menghadapi bisnis yang semakin kompetitif. Penelitian ini bertujuan untuk menganalisis faktor-faktor yang mempengaruhi wirausaha perempuan dalam mengadopsi e-commerce ditinjau dari faktor organisasi, teknologi, manfaat yang dialami, keamanan dan lingkungan eksternal. Kuesioner disebarkan kepada wirausaha perempuan yang memiliki UMKM di Kota Pekanbaru. Dengan ketentuan, UMKM itu harus terdaftar di Dinas Perindustrian dan Perdagangan (Disperindag), serta dijalankan dengan mengadopsi e-commerce. Jumlah wirausaha perempuan yang menjadi responden dalam penelitian ini sebanyak 72 orang. Teknik analisis data yang digunakan adalah regresi linear berganda. Hasil penelitian menunjukkan bahwa faktor dominan yang mempengaruhi adopsi e-commerce pada wirausaha perempuan adalah faktor manfaat yang dialami dengan indikator yang paling menentukan yaitu efesiensi biaya. Faktor selanjutnya ditentukan oleh faktor kesiapan organisasi dengan indikator yang paling menentukan yaitu kesadaran menerima perubahan dan perkembangan TI. Kemudian diikuti oleh faktor teknologi dengan indikator yang paling menentukan yaitu ketersediaan program dan sistem pendukung e-commerce (software, website).
Downloads
Download data is not yet available.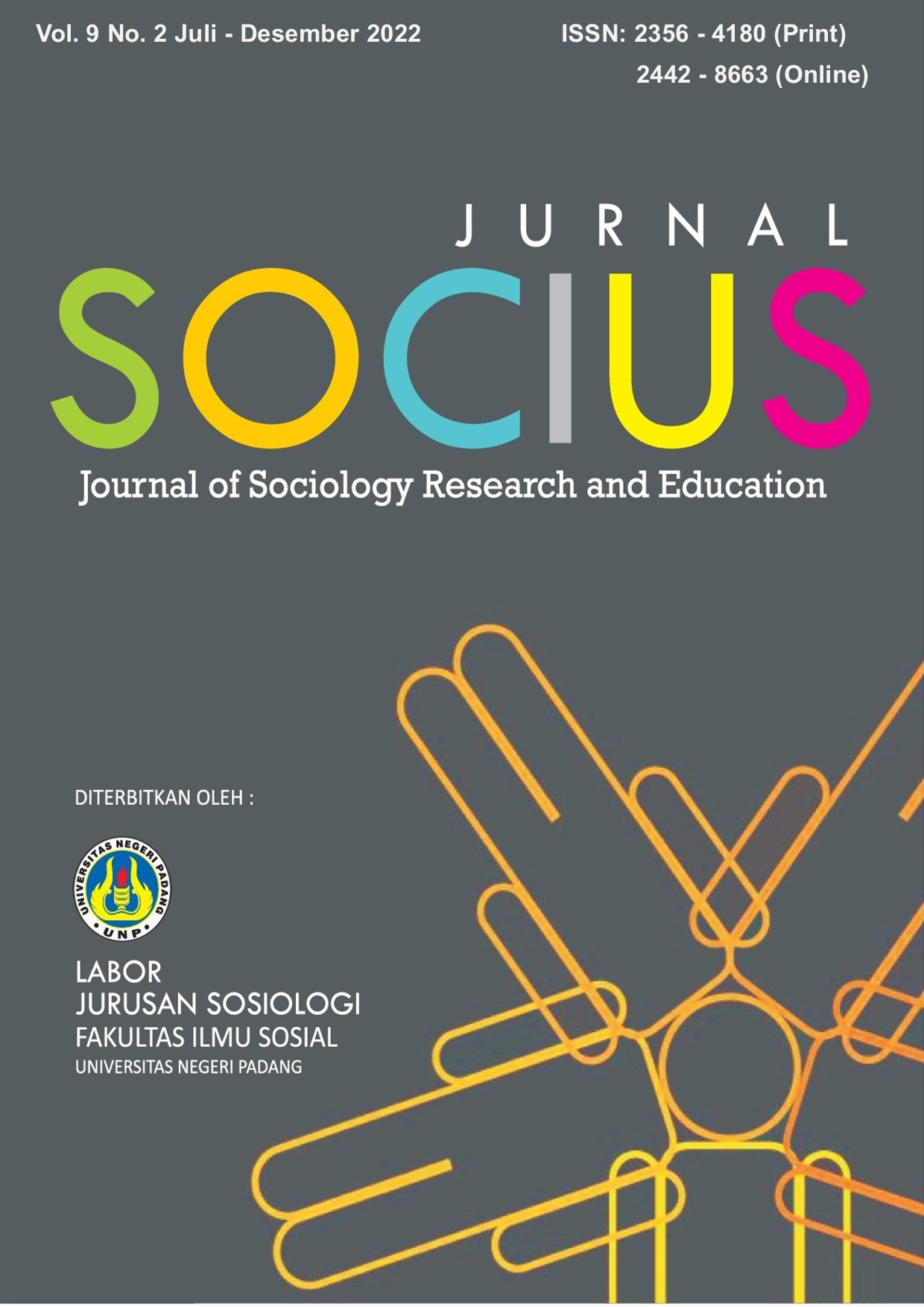 Copyright (c) 2022 Jurnal Socius: Journal of Sociology Research and Education
This work is licensed under a Creative Commons Attribution-ShareAlike 4.0 International License.