Perilaku Panic Buying dan Resiliensi dalam Menghadapi Krisis Pandemi Covid-19
Hasna Anugerah Viola

Universitas Islam Negeri Sunan Ampel Surabaya

Achmad Room Fitrianto

Universitas Islam Negeri Sunan Ampel Surabaya
Keywords:
Pandemi Covid-19, Panic Buying, Perilaku Konsumen, Resiliensi Sosial
Abstract
Tulisan ini bertujuan untuk menganalisis strategi bisnis yang dijalankan pelaku usaha dalam memenuhi kebutuhan masyarakat selama masa pandemi covid 19 berdasarkan keterkaitan antara perubahan perilaku masyarakat dengan fenomena panic buying. Jenis pendekatan pada penelitian ini adalah pendekatan mix method dengan pengumpulan data menggunakan kuesioner dan wawancara terstruktur kepada 32 responden terpilih. Hasil penelitian menunjukkan bahwa kebijakan pembatasan sosial mempengaruhi eksistensi pedagang kecil di pasar tradisional, dimana pendapatan para pedagang menurun drastis karena perubahan perilaku masyarakat yang bersikap selektif dalam memilih produk. Di sisi lain, beberapa individu maupun kelompok masyarakat memilih untuk membeli barang dengan jumlah yang sangat besar sehingga mengakibatkan terganggunya rantai pasokan. Dengan demikian, respon masyarakat yang beragam memiliki korelasi kuat dengan teori resiliensi, yakni sebagai wujud upaya adaptasi untuk mengatasi berbagai tekanan akibat pandemi Covid-19. Hasil penelitian ini berimplikasi pada sebuah rekomendasi tentang strategi bertahan hidup masyarakat dalam mencegah timbulnya kepanikan, serta strategi UMKM untuk pulih dari kemerosotan perekonomian.
Downloads
Download data is not yet available.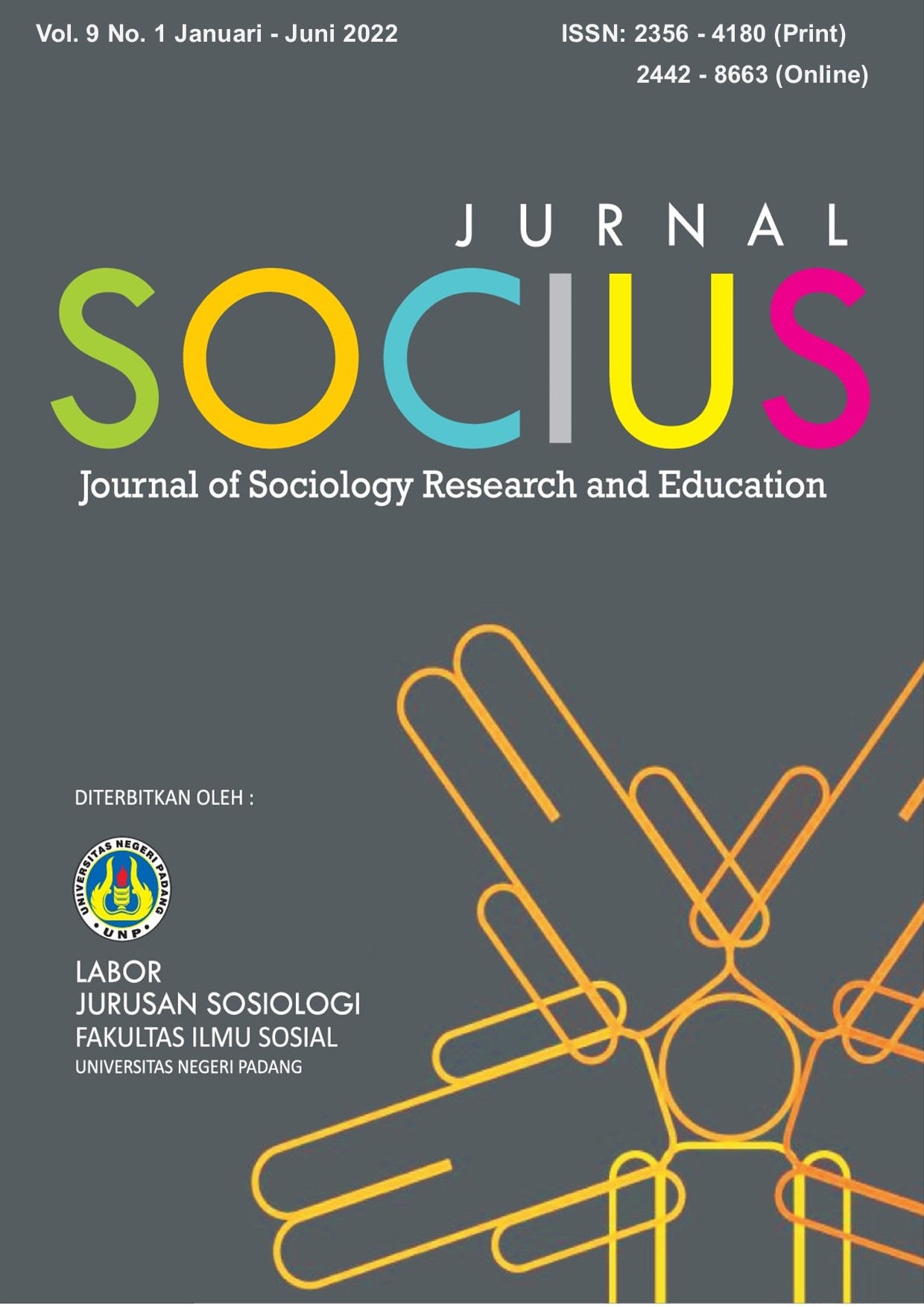 Copyright (c) 2022 Jurnal Socius: Journal of Sociology Research and Education
This work is licensed under a Creative Commons Attribution-ShareAlike 4.0 International License.