Mekanisme Penyelesaian Konflik Jalur dan Alat Penangkapan Ikan di Perairan Pulau Rukau Desa Semembang
Yozi Rahmadeni

STAIN Sultan Abdurrahman Kepulauan Riau

Doni Septian

STAIN Sultan Abdurrahman Kepulauan Riau
Keywords:
Konflik, Nelayan, Rukau, Semembang, Tradisional
Abstract
Penelitian ini bertujuan untuk mendeskripsikan faktor dan mekanisme penyelesaian konflik jalur penangkapan dan alat penangkapan ikan di perairan Pulau Rukau Desa Semembang. Perairan ini merupakan satu-satunya zona produktif terakhir tempat bergantungnya mata pencaharian nelayan rawai tradisional Desa Semembang sejak turun temurun. Perairan ini mengalami beberapa kali konflik antar nelayan rawai tradisional dengan nelayan modern. Konflik memuncak terjadi pada tahun 2017 dan pada tahun 2021 yang berujung pada penyanderaan kapal serta pembakaran alat penangkapan ikan milik nelayan modern. Penelitian ini menggunakan pendekatan kualitatif, dengan teknik pengumpulan data melalui wawancara dan dokumentasi. Informan dalam penelitian ini terdiri dari Kepala Desa, Badan Perwakilan Daerah, Perwakilan Nelayan, Kepala Dusun, serta Polisi Khusus Pengawasan Sumber Daya Kelautan dan Perikanan Provinsi Kepulauan Riau. Hasil penelitian menunjukkan bahwa penyebab konflik terjadi karena: 1) adanya perbedaan kepentingan antar nelayan, 2) pelanggaran jalur, dan 3) penggunaan alat penangkapan ikan modern oleh nelayan dari Kecamatan Meral Karimun dan Desa Kuala Selat Kecamatan Kateman. 4) tidak adanya sosialisasi kebijakan dan pengawasan atas pelanggaran dari Pos SDKP Provinsi Kepulauan Riau. Mekanisme penyelesaian konflik yang dilakukan melalui: pendekatan negosiasi, konsiliasi dan mediasi yang berakhir dengan surat kesepakatan perjanjian dengan mengacu kepada Undang-Undang Nomor 45 Tahun 2009 Tentang Perikanan dan Peraturan Menteri Kelautan dan Perikanan Nomor 59/PERMEN-KP/2020 Tentang Jalur dan Alat Penangkapan Ikan di Wilayah Pengelolaan Perikanan Republik Indonesia.
Downloads
Download data is not yet available.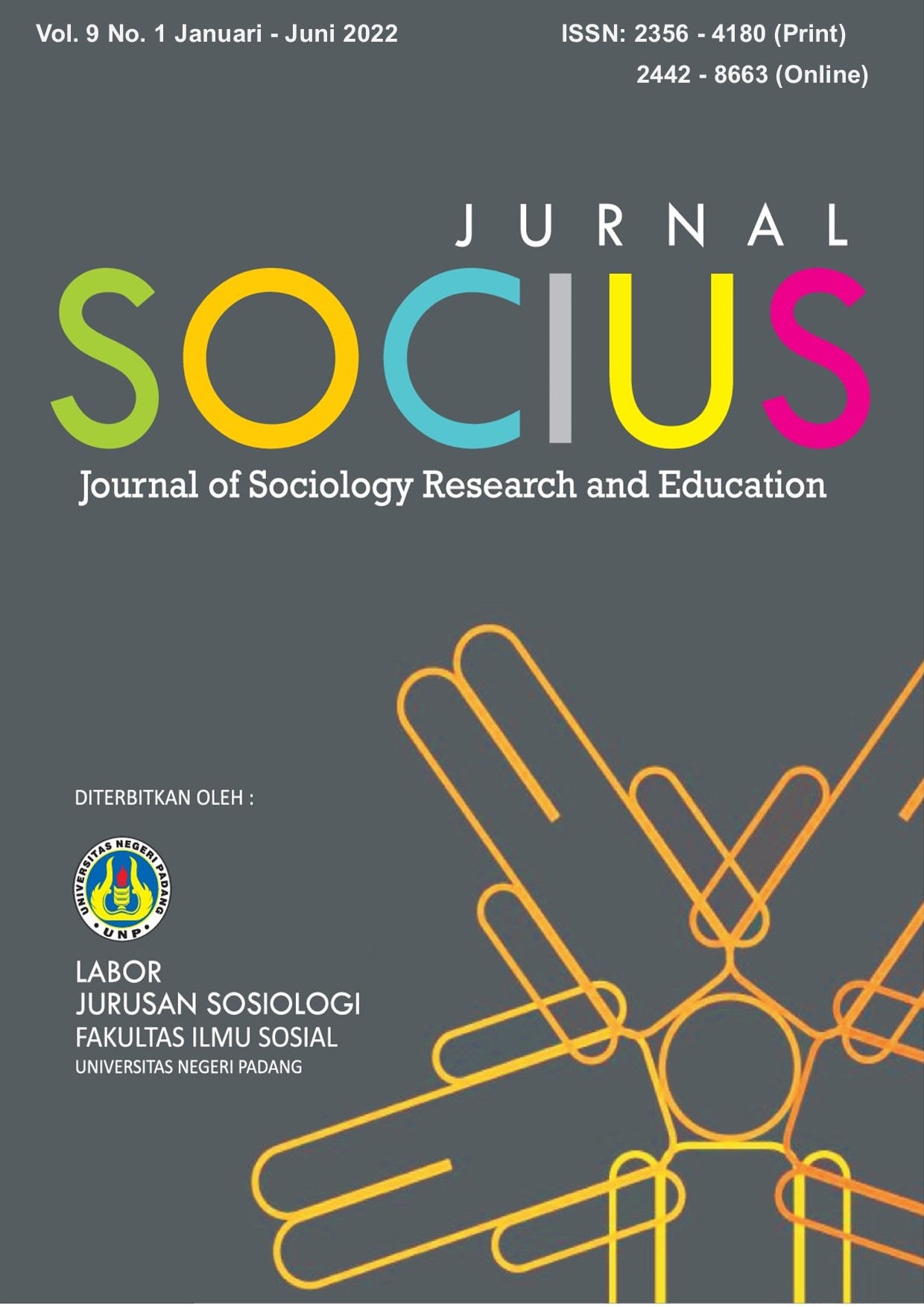 Copyright (c) 2022 Jurnal Socius: Journal of Sociology Research and Education
This work is licensed under a Creative Commons Attribution-ShareAlike 4.0 International License.