Partisipasi Pemuda dalam Program Ketenagakerjaan Pemerintah Daerah Kabupaten Takalar
Jusmawandi Jusmawandi

Politeknik Negeri Fakfak

Safriadi Safriadi

Universitas Hasanuddin
Keywords:
Partisipasi, Pemuda, Program dan Tenaga Kerja
Abstract
Salah satu Program unggulan Bupati Takalar periode 2017-2022 yaitu penyerapan 10,000 tenaga kerja baru. Peran pemuda sangat penting dalam proses pelaksanaan program untuk menunjukkan keterlibatannya. Program ini berjalan selama tiga tahun namun belum berdampak signifikan terhadap masyarakat, bahkan Kabupaten Takalar masuk dalam daftar 10 Kabupaten dengan tingkat pengangguran tertinggi di Sulawesi Selatan pada tahun 2020. Artikel ini mendeskripsikan bentuk partisipasi pemuda dalam program Pemerintah Daerah Kabupaten Takalar. Penelitian menggunakan pendekatan kualitatif melalui observasi dan wawancara mendalam (indepht interview). Hasil penelitian menunjukkan bahwa bentuk partisipasi pemuda terbagi atas dua yaitu partisipasi fisik dan nonfisik. Partisipasi fisik meliputi kegiatan dalam bidang jasa, pendidikan, pertanian, dan lain-lain. Sedangkan partisipasi non fisik meliputi kegiatan seminar, diskusi, dan gagasan lain yang berkaitan dengan program. Berdasarkan teori Arnstein, bentuk partisipasi berada pada tingkatan Citizen Power. Pemuda memberikan kemampuan mereka dalam menentukan, melaksanakan dan melakukan evaluasi terhadap kegiatan yang mereka laksanakan. Hasil penelitian menjadi bahan evaluasi Pemerintah Kabupaten Takalar dalam menjalankan program-programnya
Downloads
Download data is not yet available.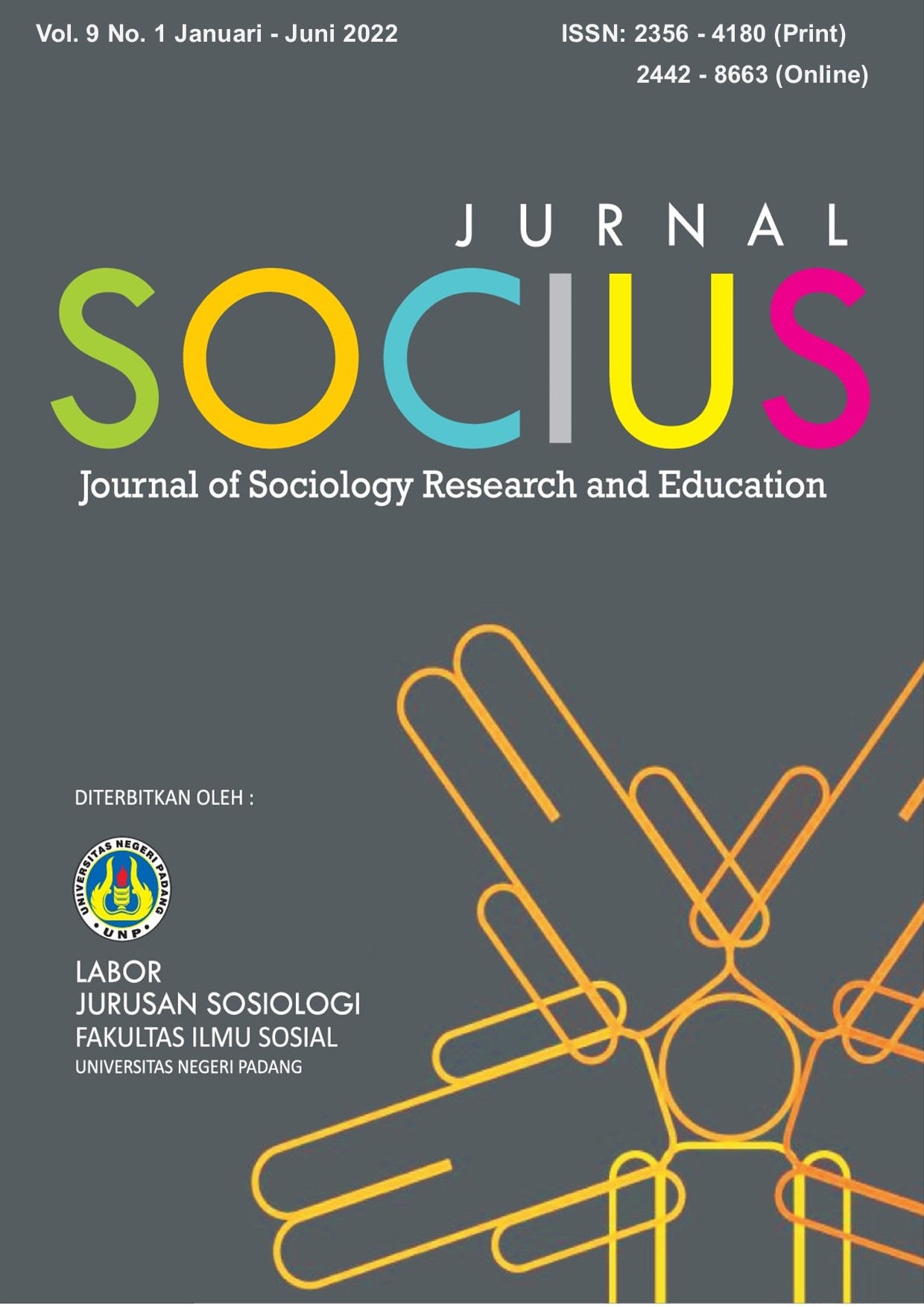 Copyright (c) 2022 Jurnal Socius: Journal of Sociology Research and Education
This work is licensed under a Creative Commons Attribution-ShareAlike 4.0 International License.